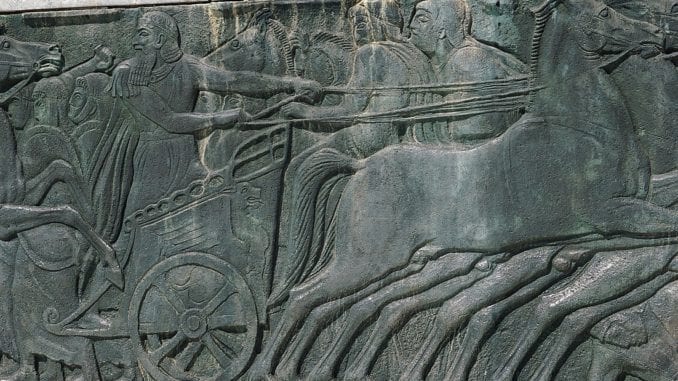 STEINBACH, MB
A local history committee has decided it was about time there was some acknowledgement of Steinbach's patron saint and founder St. Einbach. A large cairn depicting St. Einbach, riding a traditional Mennonite chariot, was revealed at a ceremony this morning.
"We are here today to honour our founder and leader St. Einbach," said committee chair Wilbur Schellenberg. "The Einbach family established a homestead on this very place, right across from what is now Chicken Chef."
Schellenberg says that the community was known as St. Einbach until the 1920s, when the elders wanted a name that would distance themselves from all the Catholic towns nearby.
"But make no mistake, this man was a true saint," said Schellenberg. "He was the first to successfully turn cow's milk into schmaunt fat and is also known for performing the miracle of the 15% tip at a Sal's in Vanapag."
The St. Einbach cairn is the first in a series of new initiatives to commemorate the local hero.
"A tire park in his honour is also in the works," said Schellenberg. "When the kids slide down the zip line we want them to think about nothing but our dear leader St. Einbach."
Meanwhile, the neighbouring town of Ste. Anne will vote this fall on whether to change it's name to simply Stan.