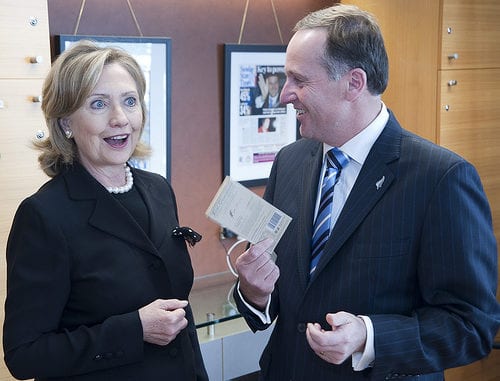 WASHINGTON, DC
As videos continue to surface on the Internet that show Mrs. Clinton with unusual facial ticks and long bathroom breaks, some Mennonite pundits are suggesting Hillary Clinton may not have the physical stamina necessary to perform her duties as church usher if elected.
"First of all, I'd just like to point out that this has absolutely nothing to do with the fact that she's a woman," explained elder John Martens. "We've never had a female usher in our church, but we're not against it. It's just that we haven't found a suitable candidate yet. From the looks of things, Hillary might not be up to task of folding and handing out bulletins, either."
Church experts have pointed out that ushering is not just a typical 9 to 5 job and requires a candidate who is in peak physical and mental health.
"It's only a coincidence that all of the ushers in the history of our church have been male," explained Martens. "Better to be safe than sorry when it comes to shaking hands with newcomers and pointing in the general direction of empty seats."
Martens says his church has had a longstanding tradition of finding cockamamy excuses not to have female ushers and wishes Mrs. Clinton all the best in trying to overcome these incredible biases.
"So long as there are conspiracy nuts online who suggest women might not be strong enough to be ushers, we've got to take them seriously," said Martens. "Even Rudy Giuliani agrees with me."
(Photo credit: by US Embassy New Zealand/CC)