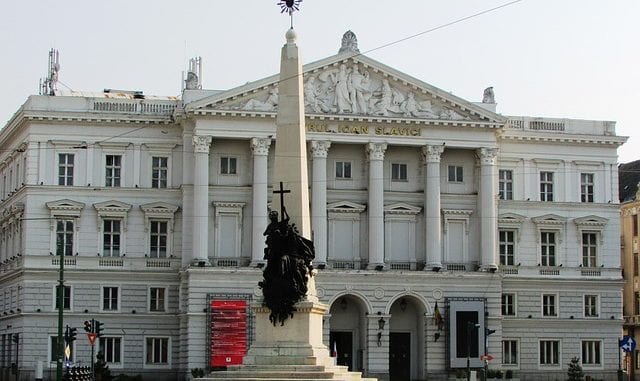 NIVERVILLE, MB
There has long been a friendly rivalry between the small but growing town of Niverville, Manitoba and it's larger Mennonite neighbour Steinbach. Now that rivalry has been taken to new heights as Niverville has announced plans for "a totally epic Arts Centre," just as Steinbach's own Performing Arts Centre is being brought to its knees.
"Steinbach says building a nice Arts Centre is too expensive?" said Niverville Arts guru Delbert Pankratz, "Well, we can build a bigger, better arts centre with a quarter of the population. We'll show those thrifty Steinbachers how it's done."
The Niverville Arts Centre design features neoclassical elements than harken back to Niverville's strong artistic and cultural heritage. Meanwhile, the design for the Steinbach Arts Centre is being scaled back to a sod hut.
"We're also planning to build a really awesome hockey arena and the largest indoor water park in Canada," said Pankratz. "With all these awesome attractions, it won't be long before Niverville passes Steinbach in population…and, like, total awesomeness!"
Representatives in Steinbach, however, remain committed to the new sod hut Arts Centre.
"Typical Niverville, always showing off. Quite frankly, we're not bothered by them at all. If they want to waste all that money on making their town better, they can," said a Steinbach spokesperson. "Besides, Niverville is full of outsiders from Winnipeg now who have watered down the Mennonite principle of excessive fiscal restraint."
The Steinbach spokesperson also suggested, "since Steinbach has a Sal's now, what do we need with an Arts Centre?"