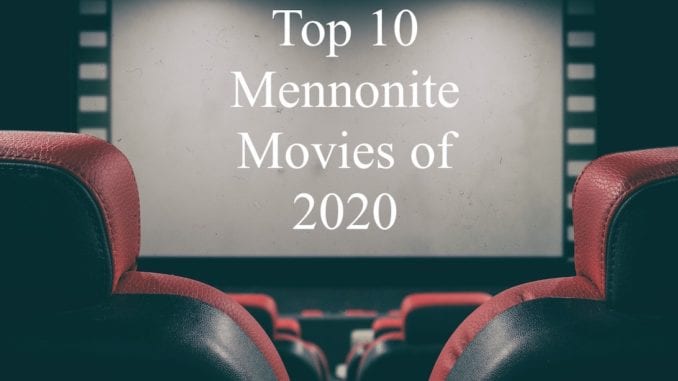 Hollywood took quite the hit in 2020 with theatres closed for much of the year. For Mennonites, however, who fear nothing more than to be seen entering a movie theatre, 2020 was a blessing. With many folks doing their movie watching in the privacy of their own homes, even Mennonites got in on the action this year. So here they are – the top 10 Mennonite movies and series of 2020.
10. Dolittle – A day in the life of a local shekjbenjel.
9. Enns with Two Ns – A spin-off of Anne with an E, Enns with Two Ns tells the tale of a strange orphan girl who spells her name incorrectly but wins the hearts of her caretakers anyway. Also in pre-production for next year is Goertzen with a T.
8. The Social Dilemma – A popular Netflix documentary about the dangers of letting Grandma Wiebe use the Internet.
7. The Mennodolarian – Set a long time ago in a Pennsylvania county far far away, The Mennodolarian is an action-packed adventure series that introduced the adorable Baby Yoder to the world.
6. Rebecca –  A Kleefeld woman bemoans the fact she wasn't named Sarah or Aganetha.
5. Borat Subsequent Moviefilm – A G-rated wholesome film the whole family can enjoy. Oma Dueck's number one film of the year. She insists on watching it at the gathering next Christmas!
4. Hillbilly Elegy – A documentary about Steinbach told from the perspective of everyone in Winnipeg.
3. The War with Opa – A return-to-form for acting legend Robert DeNiro, who definitely is not discrediting his reputation by doing b-level movies just for a paycheque, stars as Opa Froese in this heart-wrenching Oscar-worthy melodrama.
2. Bill and Ted Face the Music – Longtime Chortitz church song leaders Bill Friesen and Ted Neufeld travel in time to discover that drum beats are not actually from the Devil.
1. Bad Boys for Life – The Lewis Weiss/Tobias Tissen story.