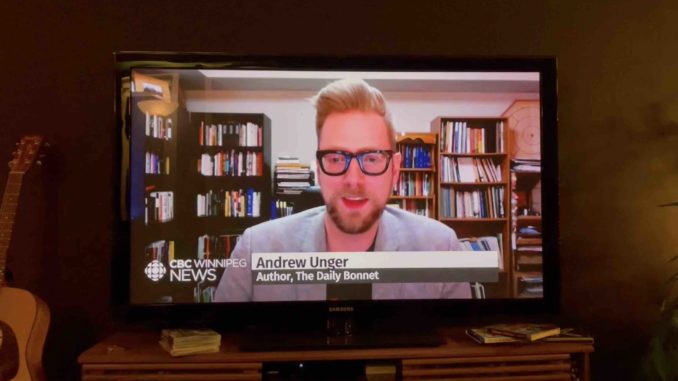 STEINBACH, MB
An unphotoshopped photo of Mennonite satirist and longtime Steinbach resident Andrew Unger has surfaced on Reddit this week, apparently showing the writer on a television show of some sort.
"Oba, we've kicked people out of town for much less than voluntarily appearing on television! He calls himself a Mennonite? It doesn't give such!" said Mr. Kauenhofen, head of the City of Steinbach Department of Shunning for Television-Related Offences. "And on CBC yet once such! Na, jung!"
The evidence suggests that Unger was a guest on the CBC Winnipeg News at 6 pm with host Holly Bernier where he apparently spent a number of minutes talking about his new book The Best of the Bonnet and explaining to city people what Mennonites really are like.
"To be honest, I didn't think anyone in Steinbach would see it," said Unger, "or at least not admit to it."
Unger is set to appear before a panel of church elders this weekend, who will decide his fate.
"It's not looking good for him," said local church law expert Albert Sawatzky. "Then again, if he can survive schpotting Mennonites all the time, maybe he can survive this scandal too!"
Photos of Unger shooting a round pool in his friend Keith's basement also surfaced in recent days and experts say the photos are certainly more than enough to seal his fate.