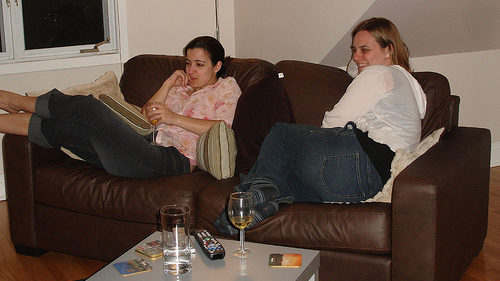 STEINBACH, MB
Mennonite men across North America have joined their non-Mennonite counterparts in staying far far away from the house this evening as millions of women get together to watch the Netflix reboot of 'Gilmore Girls.'
"I've jast got to stay avay from that satuation yat," said Peter Friesen, a local farmer and husband of an avid Gilmore Girls fan. "I tink I'll jast malk the cows all evening, whether they need a milking or not."
For some reason Mennonite men seem to have absolutely no interest in learning what Lorelai and Rory have been up to since the original show was cancelled in 2007.
"Da wife likes dat show more dan she likes rhubarb platz," said Friesen. "I jast don't understand womens at all."
Friesen also complains that, "there's jast vay too much talking on dat show. Talking. Talking. Talking. Oba!"
Mennonite women, on the other hand, have found the perfect excuse to get their husbands out of the house.
"It works pretty well," said Anna Friesen. "All I have to do is just mention the word 'Gilmore Girls' and he's booking it to the barn. It's the most effective way I know to get an evening to myself."
(photo credit:  by Cleavers/CC)