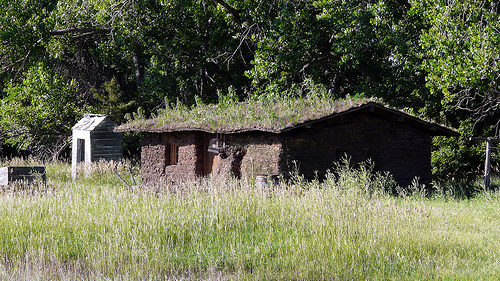 REGINA, SK
An area man will be homeless tonight if the Winnipeg Blue Bombers fail to beat the Saskatchewan Roughriders in today's Labour Day Classic football match.
"I'm so confident the Bombers will win, I put up everything I have," said hardcore Winnipeg fan Peter L. Banman. "That semlin's gotta be worth at least a couple hundred bucks in sod alone."
Along with thousands of Manitobans, Banman will be making the trek along the TransCanada Highway to neighbouring Saskatchewan to cheer on his team.
"I've got the horses hitched up already," said Banman. "But since I've wagered them, too, I might have to catch a ride with someone on the way back."
The bet is said to be the largest ever wagered by a Mennonite, but Banman feels it's worth the risk.
"If I win I get my cousin Delbert's condo in Regina," said Banman. "It's made entirely of sod, too."
(Photo credit: by ken ratcliff/CC)