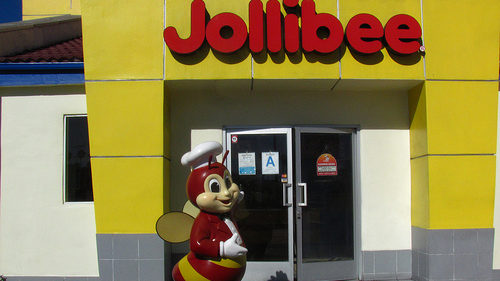 WINNIPEG, MB
When Filipino fast food giant Jollibee opened up in Winnipeg, Garth and Pamela Friesen of North Kildonan were lured in by the smiling cartoon bee and the chance to try sweet spaghetti. Since it opened in fall, the Friesens have eaten at Jollibee every breakfast, lunch, and dinner for more than six months.
"Once we got a taste for sweet spaghetti, we just couldn't go back to farmer sausage and perogies," said Garth. "I'm really excited to try this authentic home-cooked Filipino food."
Garth and Pamela consider themselves the most sophisticated Mennonites in North Kildonan.
"Before we really go into Jollibee we were totally hardcore about Taco Time," said Garth. "Especially the one in the Polo Park food court."
Pamela claims the couple has never ventured outside Winnipeg, but says that Jollibee chicken has convinced them to consider their options.
"We're actually thinking of moving to Manila where we'll have easier access to Jollibee," said Pamela. "Either that or we're just going to start sleeping in our car in the former Target parking lot."
(photo credit: by Castles, Capes & Clones/CC)