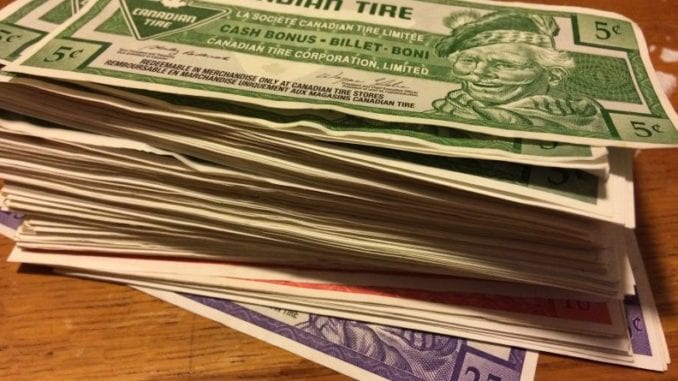 REGINA, SK
Over the years, local couple Bert and Paula Siemens have accumulated a large stash of Canadian Tire money. However, when the couple went to their local Canadian Tire store to spend it, they quickly discovered it really wasn't much at all.
"It was tremendously disappointing," said Bert, holding back the tears. "I had two or three inches worth of Canadian Tire money and all it bought me was a bag of Doritos and a 'new car smell' air freshener."
Bert says he's very excited to learn he can get Doritos at the tire store now, but is saddened by the fact that he couldn't buy much more.
"We had a specially-marked shoebox to save up all that money," explained Paula. "It seems it would take ten or twenty shoeboxes full just to get a new headlight for the Taurus."
Bert was miffed at the comment and says he plans to replace the headlight sometime this summer.
"It'll have to wait a bit longer," said Bert. "Ever since I got a craving for Ranch Doritos I haven't been able to buy anything else at Canadian Tire."