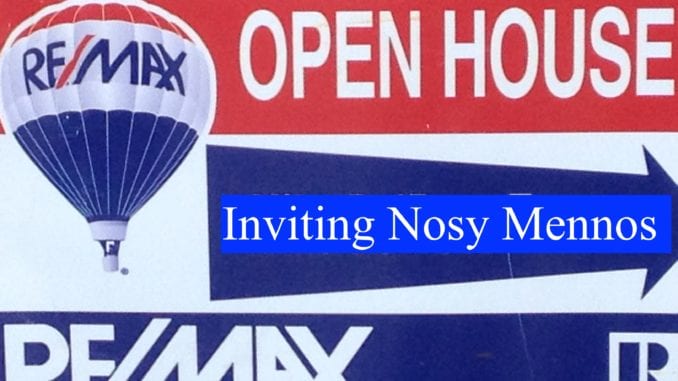 WINKLER, MB
Dozens of Mennonite couples showed up at the Friesen home this past Sunday between 2:00 and 4:00 pm even though they had absolutely no intention of buying the place.
"We were just there to snoop around and check it out," said Mrs. Fehr. "I mean those Friesens are pretty stingy on the invites."
Winklerites were very impressed with the Friesen's cleanliness, choice of floral wall paper, and generous use of crocheted Bible verse wall hangings.
"As soon as I saw that 'As for me and my house, we will serve the Lord,' hanging in the entrance, I knew these were good people," said Mrs. Fehr. "Equally impressive was the painting of the old man praying."
Mrs. Fehr said she shows up at Open Houses every weekend, even though she's perfectly content living in her 55 plus condominium.
"When the realtor asks me if I have any questions, I just tell them I'm browsing," said Mrs. Fehr. "I don't want to lead anyone on, but sometimes my curiosity gets the better of me."
The local used car dealer has also complained about the number of Winklerites taking a "test drive" that lasts all afternoon.
(photo credit: Mike DelRose/CC)