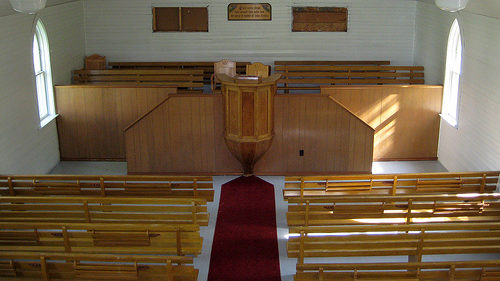 GOSHEN, IN
Mennonite churches across North America were half full this morning as thousands of church-goers slept in due to the time change.
"My first thought, as it always is whenever attendance is low was, 'oh, crap, it's the rapture and here I am still on Earth,'" said Pastor Greg Preiss of Goshen. "I immediately began combing the scriptures to figure out the error in my theology and why I was left behind."
After a frantic Bible study for about an hour or so, suddenly dozens of people showed up at church.
"Mrs. Hartzler? Mr. and Mrs. Fellmann? It's so lovely to see you. I thought you all had been raptured!" exclaimed Pastor Greg. "Oh, and look who it is! Little Timothy Krehbiel and his mommy. I thought you two were gone to be with the Lord!"
By the time the service was over the sanctuary was nearly full, although Pastor Greg still suspects there may have been a rapture because the Schwartzendruber family didn't show up at all.
"I always thought they were a pretty righteous family," said Pastor Greg. "I'm happy for them. It's just too bad for the rest of us."
In other news, the Schwartzendruber family minivan was spotted trapped in heavy traffic at about 11:30 this morning.
(photo credit: by Bob Linsdell/CC)