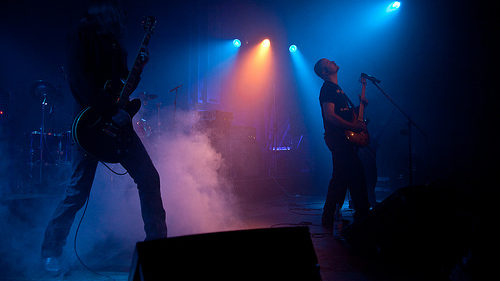 WINNIPEG, MB
A local man is in custody today after being caught selling fake tickets to a weekend worship service at Waters of Blessing, a Winnipeg megachurch known for its really epic music program.
"The loud volume, electric guitar solos, pyrotechniques and lighting give a lot of people the impression they're at a rock concert," said the officer who made the arrest. "So, we caught the accused standing in the church parking lot selling tickets he had printed in his basement. He was asking $50 for seats near the front."
The man has been charged with fraud for selling the fake tickets. Further charges are pending after evidence was discovered he also was selling t-shirts featuring pictures of the worship band from the trunk of his car.
"Our concern is that if someone is charging money to attend one of our services," explained Pastor Ron, "that it may adversely affect the amount that people throw into the offering plate."
The accused faces up to three years, but his lawyer is trying to strike a plea bargain where he works in the church marketing department for a few years to avoid prison.
(Photo credit: by UT Connewitz
)