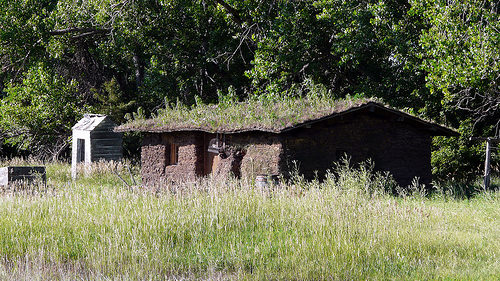 TORONTO, ON
With interest rates rising and the housing market starting to cool, realtors are now calling it a buyer's market. Nowhere is this more evident than in Toronto where a mere $5 million will net you a lovely 250 sq. ft. sod hut.
"All I can say is get in while you can," said Toronto real estate agent Mary Warkentin. "These homes made entirely of top soil and grass won't be this affordable for long."
Warkentin says she's been run off her feet this week showing off all the multi-million dollar sod huts this week.
"People just can't believe these deals," said Warkentin. "For a mere 5 million you get a generous amount of sod, a place to water the cows, and a lovely outhouse."
Of course, buyers are expected to assemble the sod hut themselves.
"But, don't you worry, with a bit of practice anyone can turn their front lawn into a beautiful Toronto residence," said Warkentin. "At these prices, young couples will finally be able to get in on the sod hut market." 
(Photo credit: by ken ratcliff/CC)