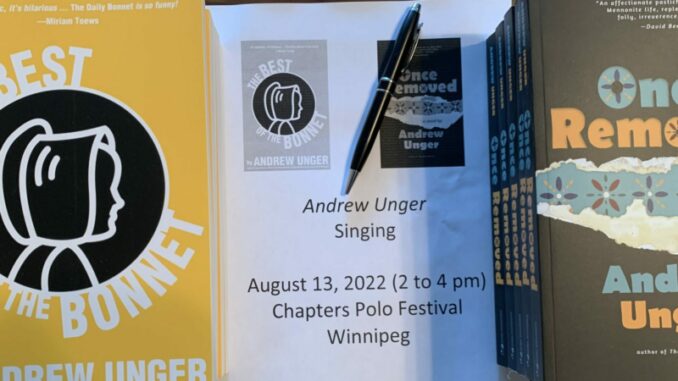 WINNIPEG, MB
A minor clerical error turned out to be not so minor for author Andrew Unger this weekend, as he was forced to pick up a microphone and belt out classic country songs to an expectant audience of music lovers.
"I'm just here to sign books," said Unger, visibly nervous at the thought of having to sing in front of an audience. "If you want a Mennonite to sing for you, maybe see if you can coax Ben Heppner out of retirement."
The crowd would accept none of Unger's excuses, however, and demanded he at least give them a few old country songs or something.
"I didn't come all the way from Winkler to this Chapters store in the city just to buy a couple dozen books," said Mr. Harder. "I want to hear some Tammy Wynette."
Noting that nothing else would calm the audience, Unger stood up, wiped the sweat from his brow, and struggled his way through "Stand By Your Man".
"I don't think I can reach the high notes," apologized Unger. "I'm afraid that'll have to be all for now. Anyone want a book signed?"
Observing the positive audience response to Unger's performance, bookstores across Winnipeg quickly booked other authors to do "singings" in their stores.
"I'm super excited about our upcoming schedule of author singings. We've already convinced none other than David A. Robertson to sing for us in a couple weeks," said a local bookstore manager. "I've also been in talks with Katherina Vermette and Joan Thomas. I'm hoping they can perform a duet."
The entire local literary community has already signed up for singing lessons, although a few have decided to sing up for signing lessons instead.