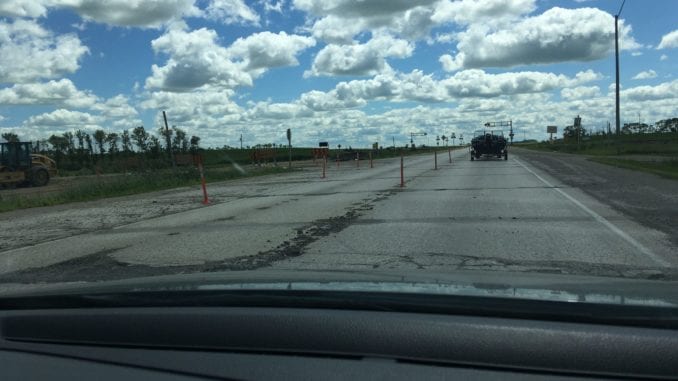 MORRIS, MB
Travellers along Highway 75 in southern Manitoba are being offered a marvelous new way to experience the life of a Mennonite pioneer. By simply driving from Steinbach to Altona via Morris, travellers are able to learn all about the terrible road conditions that the first Mennonite settlers experienced with their oxcarts back in the 1870s.
"If you want to go from the Mennonite Heritage Village in Steinbach to the Gallery in the Park in Altona, don't forget to stop by for the authentic pioneer experience on the Highway 75," said local tourism promoter Mrs. Wiens. "We all know that you can witness pioneer life in Neubergthal, but the only way to truly experience pioneer transportation is a trip down one of our atrocious highways."
Thousands of Mennonites saddled up their Dodge Caravans this weekend and were pulling over near Morris to photograph authentic pioneer road conditions.
"For our ancestors, a trip from Jantsied to Ditsied was a week-long journey," said Mrs. Wiens. "We're so happy that years of neglect from the Manitoba Highways department is allowing travellers to recreate that arduous seven-day trek."
The crap roads of southern Manitoba have already been granted a Manitoba Star Attraction certification and are in the running to be declared a UNESCO World Heritage Site.