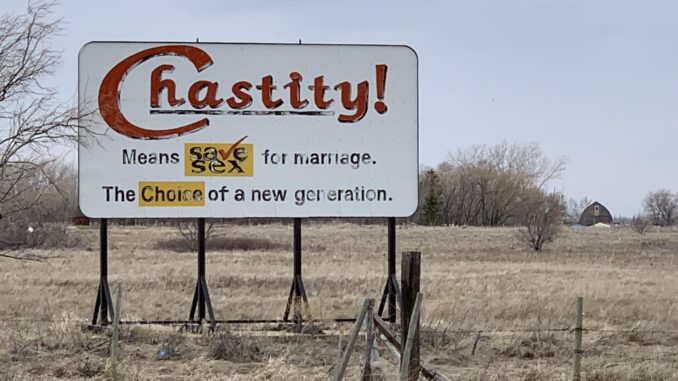 MORDEN, MB
Morden's famous "Chastity" sign was a little too far down the road for local dating couple Jeremy Goertzen and Amy Fehr, who had just spent considerable time in the back seat of Jeremy's Ford Pinto at the Stardust Drive in Theatre moments before seeing the sign.
"Darn it all, Amy! Would you look at that sign? If only we had seen it a littler sooner," said Jeremy, as he put his shirt back on and drove down Highway 3 towards his Thornhill-area farm. "What on earth are we going to do now!"
Jeremy slammed on the brakes and pulled over, where the couple paused to absorb the full message of the sign.
"They really should relocate this thing," said Jeremy. "You'd think it would be between Morden and the Drive In … or at least a little closer to Winkler."
The couple, however, is still a little confused, claiming they got the complete opposite message when driving past the "Yes Winkler" sign earlier in the day.
"We're getting mixed messages. These people should make up their minds," said Jeremy. "Oh, well, I guess this is just another mess for the elders to sort out."
Amy says she's not super concerned about the situation since she plans to marry Jeremy this summer and give birth to a healthy 9-pound premature baby sometime this fall.