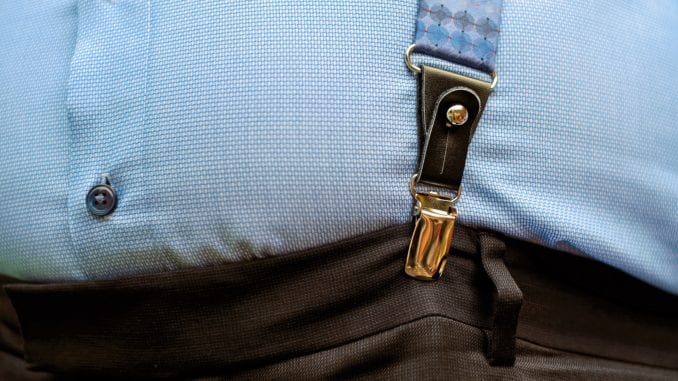 NEUBERGTHAL, MB
Oncle Johan Fast has vowed "naver aver" to wear suspenders again until the Winnipeg Blue Bombers bring home the Grey Cup. Many are supportive of his plan, but others are a little troubled by his methods.
"Diewel! One Sunday with that man's pants falling off is more than enough," said Mr. Fehr. "I sure hope those Bombers finally win it all this year so we can enjoy our Sunday services without distraction from now on."
Since making the commitment to go without suspenders, Oncle Johan has been banned from attending family gatherings and faspas.
"Dietschlaund! That was more crack than I needed to see," said Taunte Helen. "I'm normally not such a sports fan, but all I can say is 'Go Bombers Go!'"
The Winnipeg Blue Bombers have vowed to play "extra hard" for the sake of all the good folks in Neubergthal.
"Let me tell you, if we ever needed extra motivation, this is it," said one of the many Mennonites who play for the team. "I'm lying awake at night thinking that maybe, just maybe, I'll get the chance to hoist the cup and also help hoist up a Mennonite man's pants."
Oncle Johan's lack of suspenders has become so widely known in the Mennonite world that even some Riders fans are cheering on the Blue and Gold.