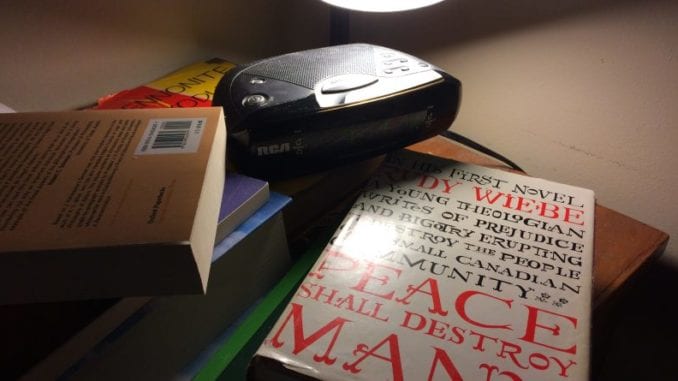 STEINBACH, MB
Local man Ron Wall, 59, has finally finished reading Rudy Wiebe's Peace Shall Destroy Many, which has been sitting on his nightstand since the late 70s.
"I'm not much of a reader," said Wall. "But I always finish what I start…eventually."
Over the years a mountain of books have piled up on Mr. Wall's nightstand, most of them given as birthday and Christmas gifts by generous relatives. However, the pile has become too much for his wife Dorothy to handle.
"I've started sleeping in the living room because the books are starting to take over my side of the bed," said the long-suffering Dorothy. "Oba, that man takes his time."
When Mr. Wall began Peace Shall Destroy Many he was just fresh out of Winkler Bible Institute with a degree in Biblical Studies that he never did put to use. In the years since he commenced reading, he graduated from Bible School, got a job at the local chicken butchering plant where he rose to the ranks of manager, got married and had ten children and countless grandchildren.
"I'm glad I finally finished that book," said Wall of his accomplishment, which he considers one of the proudest achievements of his life. "I just hope my library fines aren't too bad."