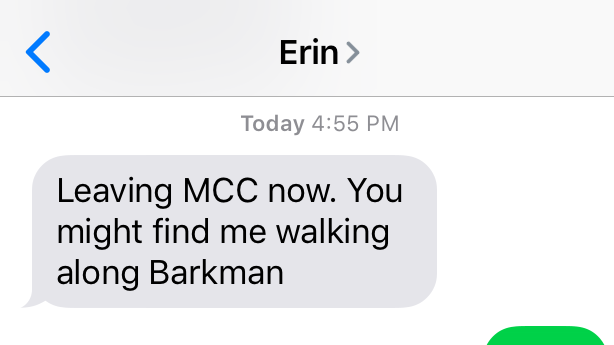 Oba, so sometimes when you live in Steinbach you don't even realized how Menno your life is. It all just seems normal until you stop and take a closer look. Take, for example, these texts my wife Erin has sent me. This is just a sample from the last couple months. And, yes, these are real!
"Leaving MCC now. You might find me walking along Barkman."

Walking along Barkman, eh? Erin's always walking along Barkman it seems…

"Now I'm leaving the MCC and I'm going to help my mom with her printing issue."

Oh, and she's also always leaving the MCC. However, she's much more likely to announce her departure from the MCC than her arrival. And a mother-in-law with computer problems. How Menno is that!

"Why aren't more Mennonites named Joseph?"

It's a good question. It's a biblical name. So why so few Josephs?

"Well, mom got her iPad…needs your help ASAP!"

For some reason I'm the go-to person when it comes to turning iPads off and then on again.

"What deodorant do you use these days?"

Inquiring minds want to know. Hey, at least I use deodorant. Pretty good for a Menno I'd say.

"Do you own 'The Salvation of Yasch Siemens'?"

Yes, more than a few copies. Who doesn't?

"We're going to Chicken Chef tonight. Your parents will pick you up at 4:40 pm."

This one is self-explanatory. Oh, and yes, Mennonites like to be in and out of a restaurant by quarter after five.

"I need to go to the MCC to find a costume for this weekend."

It seems like she's just finding excuses to go to the MCC. She has a problem I think.

"Ralph Friesen's book is at the MCC for a loonie. Should I get it?"
"There's chicken soup and a sausage roll in the freezer. And pizza perogies."

But I already got take-out sushi….