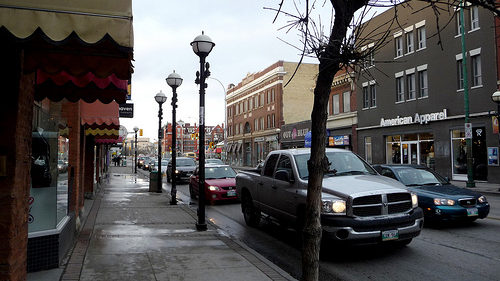 WINNIPEG, MB
Petey and Aganetha Hiebert of Altona, Manitoba found themselves in the "den of iniquity" after a GPS error led them to the Osborne Village neighbourhood of Winnipeg.
"Oba, nay! Would you look at that, Petey!" said Aganetha at least fifteen times during their drive down Osborne Street. "Women wearing jeans, men with earrings yet!"
Osborne Village is known to be the epicentre of both hippie and hipster subcultures in Winnipeg and is one of the more cosmopolitan areas of the city.
"Ach, nay, oba, nay!" said Petey, as he tried hard to keep his eyes on the road. "I've never seen such people in all my life!"
The couple were reportedly en route to a family gathering in North Kildonan, but somehow found themselves in Osborne, where the distraction of an American Apparel window display caused them to nearly collide with a local cyclist.
"Never again, Petey, never again," said Aganetha. "This Vanapag is just not for us."
The couple was reported to have stopped for a pleasant meal at Carlos and Murphy's before vacating the area.
(photo credit: by Herb@Victoria
)