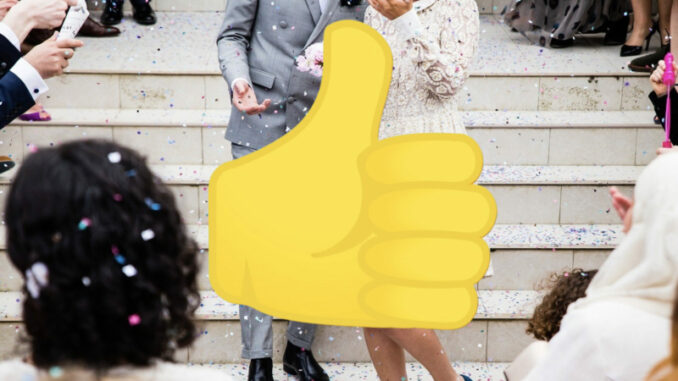 ROSTHERN, SK
The North Rosthern MB Church is inviting everyone to the wedding of Christopher Peters and Alison Funk this Sunday after Christopher inadvertently gave a "thumbs up" to one of Alison's posts.
"As far as we're concerned, that's a marriage proposal," said Pastor Earl of North Rosthern MB Church. "Alison had three hours to delete the post or they're engaged. All I can say is congratulations to the happy couple."
Alison posted a photo of herself enjoying some bubble tea in Saskatoon and Christopher, also a bubble tea fan, gave it a thumbs up, which immediately had the church elders starting the marriage count-down.
"When I was a young man, we all got married at 18. The kids these days are waiting to 19, 20, or even 21 years old before tying the knot," said Pastor Earl. "I think they call that arrested development or something."
The new emoji engagement rules have some young people eager to take advantage of the new system.
"I'm posting pictures of tractors, NASCAR, sausages – anything that might snag me one of the Thiessen boys," said Samantha Friesen. "I just have to make sure my posts are not too funny or they might give a laugh reaction instead."
Executives at Rosthern Bible School are already worried about a potential decline in enrolment with all the expected social media engagements this summer.