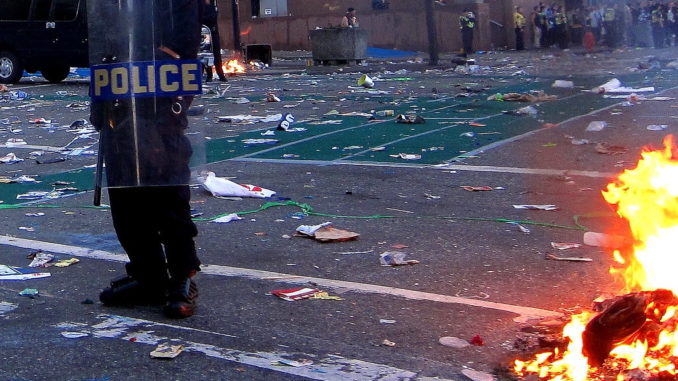 WINNIPEG, MB
Local man Dylan Goossen-Schmidt is really upset about the toppling of a few statues in Winnipeg this week, saying that the only justification for property destruction is when your team wins or loses a professional ice hockey game.
"Back in 2011, I was visiting frindschauft out west. I started three dumpster fires and helped topple two cop cars and I'm not even a Canucks fan," said Goossen-Schmidt. "It's just the thing to do when you're in Vancouver at the end of a hockey season, I guess."
Goossen-Schmidt is a proponent of a long-standing theological position known as "Just Hockey Riot Theory", which dates back to the early Christian fathers.
"According to Augustine of Hippo, our first response should not be violence. However, when faced with a hockey team's victory or defeat it is a necessary evil," explained Goossen-Schmidt. "When losing in game 7, or even game 4, 5, or 6, for that matter, it simply isn't right to stand around and not throw a brick through a window."
Goossen-Schmidt says that Just Hockey Riot Theory makes it very clear that public property should not be destroyed under any other circumstances.
"These issues have been grappled with by hockey theologians for centuries," said Goossen-Schmidt. "I'm just following in the long-standing tradition of rationalizing my own violent acts, while dismissing the rights of others to do the same, even if their concerns are significantly more legitimate."
Goossen-Schmidt is petitioning the Manitoba government to replace the toppled statues with the Jets' famous Hot Line of 1974.
(photo credit: Thomas_H_foto/CC)