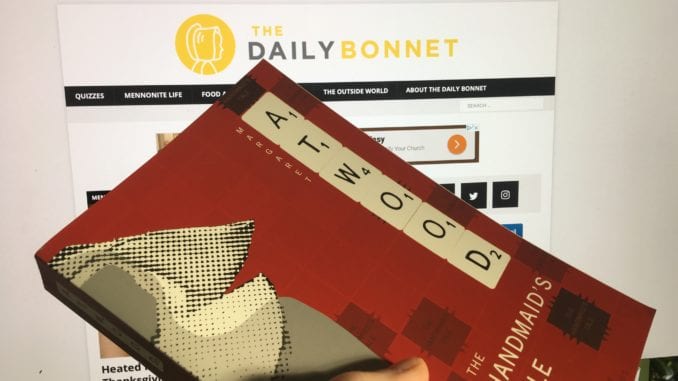 WINNIPEG, MB
Local woman Mrs. Hildebrandt was very excited when she browsed the shelves of her local book store to find a book that was seemingly based on her favourite Mennonite satire website.
"There was a headcovering and Scrabble letters," said Mrs. Hildebrandt. "This looks like the most Mennonite book ever written! I bet it's hilarious!"
When Mrs. Hildebrandt took the book to the counter to pay, she was informed by the clerk that there was also a sequel if she was interested.
"'The Testaments?'" exclaimed Mrs. Hildebrandt. "Sounds like a fantastic devotional for our weekly Bible study at the manor!"
The Bible study group found the book a bit confusing, not nearly as funny as they were expecting, and discovered a few inconsistencies.
"This Margaret Atwood seems to have gotten all the Mennonite names wrong! I can't figure it out. The book is completely devoid of Ungers!" said Mrs. Hildebrandt. "But I will hand it to her. There was one thing she got right – the treatment of women our communities – she completely nailed that!"