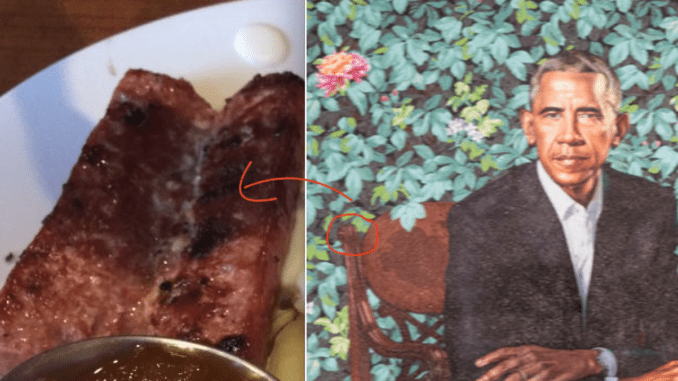 WASHINGTON, DC
"It's clearly a secret message for the Russian Mennonite community," said Elder Janzen of Omaha. "He had formavorscht on the brain."
Janzen is referring to the recent portrait of former President Barack Obama, which was revealed to the public on Wednesday. Mennonite art critics were quick to point out the obvious farmer sausage hidden in the arm chair.
"I always knew he was a secret Mennonite. Now no one can deny it," said Janzen, who also suggested the lush and verdant background may be suggestive of the Mennonite orchards of Molotschna.
Others, however, have not been quite so eager to embrace the rather graphic imagery.
"It's disgusting," said Lutheran minister Alexander Schmidt, 83. "Just throwing a sausage in there for everyone to see. There are children watching! I must say, I'm very disappointed with his vile painting."
Janzen later invited Schmidt to try some Mennonite farmer sausage and after consuming just one bite, the aged Lutheran immediately changed his tune.
"Dang it all, if I had known formavorscht tasted this good, I never would have signed that petition to have it removed from the presidential portrait," said Schmidt. "Oh, well, it's all schmaunt fat under the bridge now."
President Obama has repeatedly denied the presence of farmer sausage in his painting, though hinted that there may be some Ukrainian kielbasa if you look hard enough.