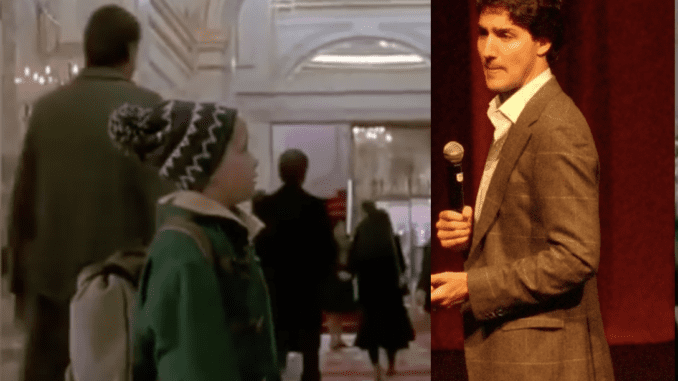 OTTAWA, ON
A recent screening of 'Home Alone 2' on late night CBC television featured an unexpected cameo by Canadian Prime Minister Justin Trudeau.
"I was up at 2 am flipping the channels and there was 'Home Alone 2: Lost in New York,'" explained Canadian late night TV watcher Dwayne Peters. "Only it had been renamed 'Home Alone: Lost in Byward Market' and featured a ten minute scene where Justin Trudeau aids young Kevin McCallister in locating the BeaverTails stand."
The new version of 'Home Alone 2' replaces all the boring bird lady scenes with zany antics by the Canadian Prime Minister.
"We tried to get Jim Carrey," said a CBC executive, "but, you know, we're on a budget and Trudeau is on the payroll already."
The film also replaces the two burglar characters with outgoing Conservative leader Andrew Scheer and disgraced hockey pundit Don Cherry.
"We wanted to update this holiday classic to make it relevant to today's youth," said a spokesperson. "I'm sure that everyone who stayed up late enough to watch really appreciated our changes. I mean who wouldn't want to see Don Cherry succumb to a series of bobby traps set by a feisty ten year old?"
Some complained that the CGI was terrible and you could clearly see the old actors behind the replacement ones.
"Typical Canadian television. Always cutting corners and inserting Trudeaus," said Peters. "If you ask me, they should just stick to broadcasting the Olympics."
A spokesperson from the broadcaster said everyone should "just chill" because the changes were not politically motivated and had been made way back during Trudeau's days as a drama teacher.
(photo credit: YouTube, Mohammad Janga/CC)