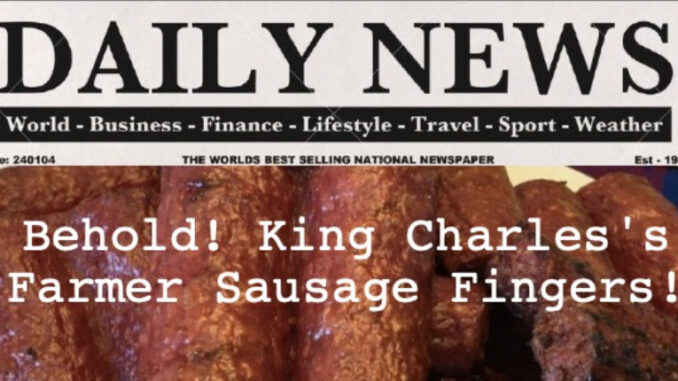 LONDON, UK
It's the biggest scandal so far of his reign. Yes, indeed. New photographic evidence suggests King Charles III's fingers bear an uncanny resemblance to Mennonite farmer sausage.
"I'm not sure why we didn't notice his formavorcsht fingers before," said British paparazzi Benedict Steven. "We're usually on top of important matters like this."
Headlines across the United Kingdom declared Charles the "Farmer Sausage King," which drew some criticism from southern Manitoba.
"I know it's a debate between Pioneer and Winkler, but the king of farmer sausage is certainly no further east than the Red River," said Mr. Friesen of near Altona somewheres. "I'm guessing his fingers might be some kind of blood sausage or something."
Royal watchers suspect Charles may have acquired these red puffy sausage-like fingers during a trip to Steinbach in the early 70s.
"I sure hope some crafty photographer can get a snapshot of his toes someday," said royal enthusiast Diane Lewis. "I've heard they look just like cottage cheese perogies and it's most definitely our business to find out for sure and put the photos on the front page of the newspaper."
Meanwhile, Charles is hoping he can stay on the throne as least as long as his mother and that this farmer sausage thing will be the most scandalous moment of his reign.