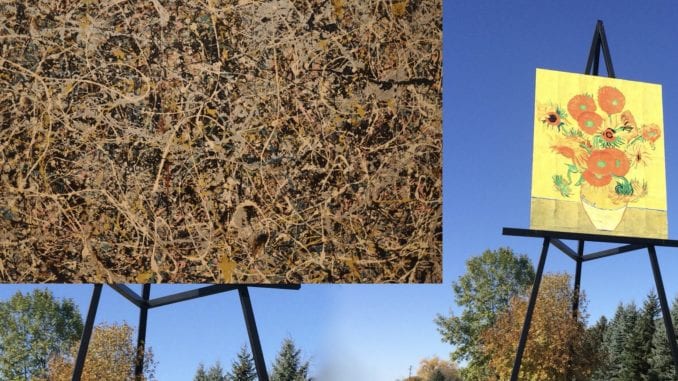 ALTONA, MB
For years, tourists have flocked to the Altona region to see the fields of sunflowers, the beautiful sculpture garden, and the world's largest Van Gogh. But a petition is going around to add a gigantic Jackson Pollock right next to it.
"Van Gogh attracts one kind of crowd, but Jackson Pollock? Well, that's a whole different ball game," said petition proponent Mrs. Kroeker. "We're talking Hollywood! I'm expecting Jack Nicholson to pay us a visit very soon!"
The new Pollock, which will also be the world's largest, is set to cost between 2 and 3 billion dollars.
"We're planning to buy a few regular Pollocks and quilt them together," said Mrs. Kroeker. "I'm sure the ladies at Altona Mennonite can more than handle it!"
Another option, however, seems to have gained more traction with frugal Mennonites in the area.
"Have you looked at that thing? We don't even have to hire an artist," said Mr. Unger. "Just get the Wiebe boys to toss some paint on a canvas – maybe get the cattle to tromp all over it – and we're good to go!"
Not everyone is in favour of the Pollock, however, and, if rumours are to be believed, the whole thing was "initiated by a Mordener" and might just have have something to do with the presence of that new cannabis shop in town.
(photo credit: Nick Webb/modified)