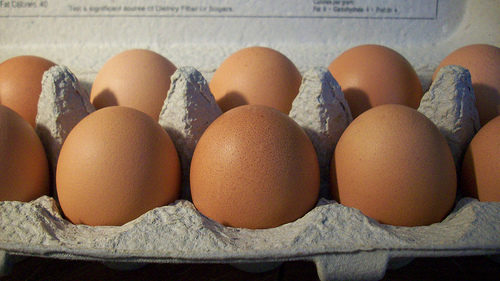 WINKLER, MB
Local grocery stores were completely sold out of eggs yesterday, after for some unknown reason nearly everyone in town decided they were going to just turn off the lights and hide in the basement last night.
"Nothing. We're completely out of stock. Even the quail eggs are gone," said grocery store manager Ed Penner. "Someone must have been making a heck of a lot of omelettes."
After emerging from their dark basements this morning, Winklerites were looking forward to reading the paper, but found themselves cleaning their windows instead.
"I can't figure out how my windows got so dirty," said area woman Dorothy Schmidt. "This seems to happen every November 1. I just don't get it. Oh, well, that's just life I guess."
Penner also notes that the store is really low on toilet paper and cautions Winklerites to ration their own supplies until the store can be restocked.
"I don't know why, but our store is also completely out of toilet paper, so you may want to be a little more conservative in your usage until the trucks arrive later in the week. Check your supply before embarking too far into the process," said Penner. "You don't want to be left in an awkward situation you can't get out of."
(Photo credit: by AlishaV/CC)