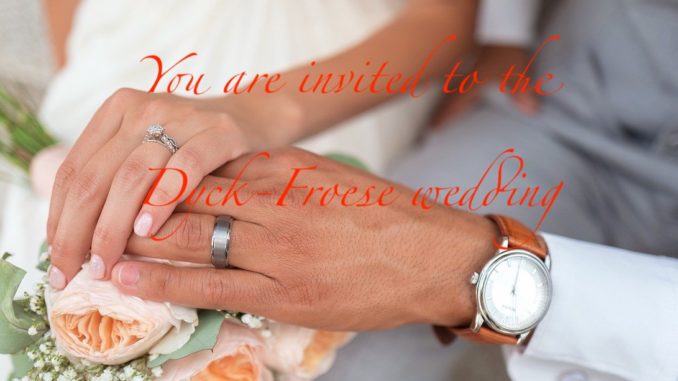 Although I much preferred David Letterman, the one segment I watched on Jay Leno's show was when he read funny headlines from real newspapers. Often they were humorous marriage pairings. I came very close on a few occasions to sending in a clipping from Steinbach's local paper The Carillon News, but I never did. There was plenty of opportunity as Mennos do have some wildly inappropriate couplings. Here are a few.
10.  The Dycks of Friedenfeld and Froeses of Neuhorst cordially invite you to the Dyck-Froese wedding on May 11 at the MB Church.
9. Yoder-Miller. No yoder-miller! No you're da miller! No you are!
8. Block-Wall. This is either a brand new Fisher Price product or has something to do with a Joe Biden campaign promise. Hard to tell.
7. Nickel-Hamm. Affordable meat products are always a little iffy.
6.  Mr. and Mrs. Fast are delighted to announce the engagement of their daughter Lisa  Fast to William Siemens of Grunthal. A Fast-Siemens wedding is planned for this summer.
5. Peachy-Smucker. Such a peachy little smucker.
4. Every Mennonite man's worst nightmare came true this afternoon at the Friesen-Peters wedding.
3. Fehr-Fuchs. Careful how you say this.
2. Good-Bender. Those Swiss Mennos have their share of awkward couple names, too. How much do you want to bet there's been more than few Good-Bender weddings in Intercourse?
1. Harder-Dyck. No comment.