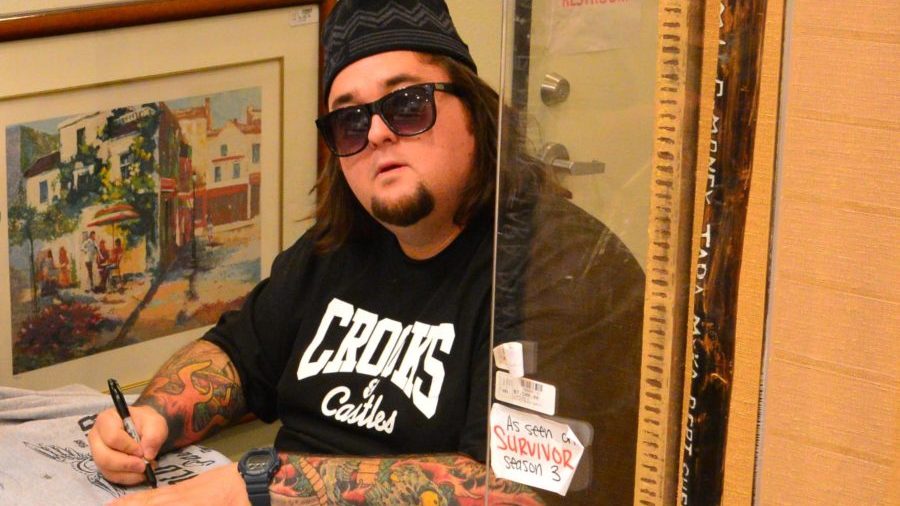 LAS VEGAS, NV
Sorry, ladies, but Austin Lee Russell, better known to fans of the hit reality show Pawn Stars as Chumlee, is now off the market. Numerous sources report seeing the handsome young pawn shop employee at a Las Vegas wedding chapel with a bonnet-clad Mennonite lady.
"We believe the lucky gal is Miss Anna Graber of Elkhart, Indiana," said the source. "She's a pastor's daughter and talented milkmaid who ran away from the colony back in April."
The marriage has come as a shock to some, especially considering Chumlee's reputation for wild living, tattoos, and pawning stuff.
"Pawning's a bit like gambling, isn't it?" said celebrity insider Nancy Mathison. "I'm pretty sure the Mennonites are against it."
Others, however, have taken this as sign that Chumlee has changed his ways. He was even spotted in the men's section of a local Mennonite church.
"Chumlee was on one side and Mrs. Chumlee nee Graber was on the other," said one witness. "He was very enthusiastic about the hymn-singing. He's a tenor, I believe."
The Graber family was upset at the news of the elopement and are hoping to lure their daughter back home by promising her a prominent leadership position in the Elkhart 4H Club.
"Once they've seen a big city pawn shop, it's hard to get them thinking about the farm in Indiana," said Mathison. "I wish the couple the best of luck and I know I speak for everybody when I say we all look forward to the day when there are dozens of little suspender-wearing Chumlees running around the pawn shop."
(photo credit: gsloan/CC/modified)