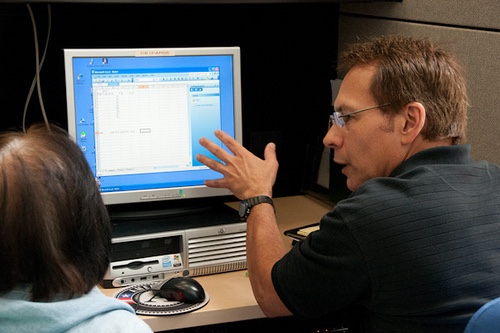 ALTONA, MB
This past week, Jessica Wiebe, 19, finally convinced her grandfather Abe, 86, to go online for the very first time in his life.
"He didn't know how to do anything," explained Jessica. "He could barely turn on the computer."
Still it didn't take long and Grandpa was surfing the World Wide Wiebe.
"Oba, look at all these Wiebes here on Facebook," said Grandpa Wiebe. "There's Corny Wiebe, Isaac Wiebe, even Dick Wiebe from over in Jantsied yet."
Grandpa Wiebe spent hours looking for frintschoft.
"And there are thousands of more Wiebes on Grandma Online," said Wiebe. "Diewel, this World Wide Wiebe is exciting."
Grandpa Wiebe says he plans to sign up for his very own Facebook account and join the 17,302 Wiebes already there.
"Once I sign up, I'll be Wiebe number 17,303," said Wiebe, although friends are warning him not to count his Wiebes before they're hatched.
(photo credit: by San José Library )