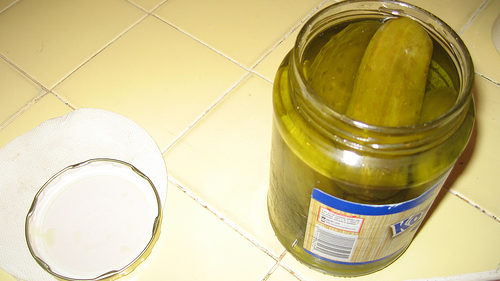 STEINBACH, MB
Local strong man Art P. Blatz, 51, is renowned throughout the area for his ability to open pickle jars that no one else can seem to get open, even after running hot water on them or tapping the lid with a spoon.
"There's no jar that's so tight that I can't open it. It's all in the wrist," explained Blatz. "I've opened many a pickle jar with these suckers."
Blatz's talents will be showcased in a performance at faspa this weekend at the EMMBC church, where he'll be proudly jumping in to help out the ladies in the kitchen.
"I know when I'm needed," said Blatz. "Try all they might, neither Martha nor Brenda can open these things. Not even when they pass it off to their husbands."
Blatz dismisses suggestions that the others "loosened it a little," thus making his task easier.
"If anything, with all those hands on it, the jars just get tighter," said Blatz. "There's no denying it. My pickle jar opening skills are unparalleled in the history of Steinbach jar-opening."
(Photo credit: by Sam Felder/CC)