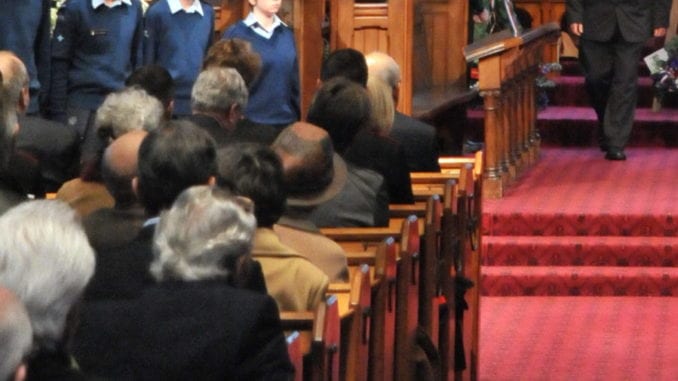 MOUNTAIN LAKE, MN
The East Side Mountain Lake Mennonite Church set a world record this Sunday after Pastor Ron had the congregation stand up, sit down, and stand up again 606 times in a single service.
"We honestly weren't going for any record," said Pastor Ron. "It's just that we had a lot of responsive readings and prayers…and the fact we ended up at 606 is just the icing on the cake."
The congregation first stood up to greet each other, then sat down for the responsive reading, then stood up again for a boisterous singing of 'Life is Like a Mountain Railroad' and then sat down again while the Friesen sisters performed a skit based on Jonah 2:10, then up again for the prayer, then down again for the children's story, then up again for 'Church in the Wildwood', then down again for the more sombre 'Peace in the Valley', and up and down like this another 599 times.
"To be honest I didn't even notice we were approaching a record until about halfway through the service when Mrs. Peters tapped me on the shoulder and told me to keep it up because we were on pace to shatter the Elkhart record of 504 ups and downs back in '97," said Pastor Ron. "At that point I was just hoping no one's back would give out and we just keep on going."
Exhilarated after the service, church member Mrs. Kornelsen, 76, said she feels ready to run the Minnesota Marathon.
"I haven't done that many deep knee bends in ages," said Mrs. Kornelsen, dripping with sweat. "It's nice being able to learn a little from the Word and get in an awesome Yoga Meltdown workout at the same time!"
After the wild success of the service, Pastor Ron is thinking of installing a couple hundred stationary bikes in the sanctuary and running Spin classes every Sunday morning.