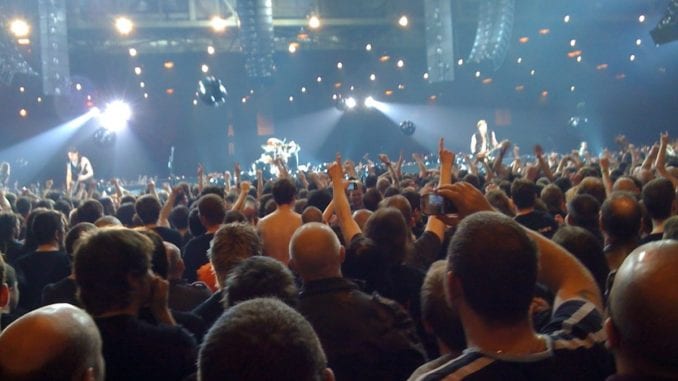 WINNIPEG, MB
The ladies from the Winkler EMMB Quilting Group were heading into the city on one of their monthly outings. They had intended to attend a panel discussion at the Millennium Library, when a mixup in the elevator led them to the arena with a bunch of slovenly metal fans.
"Oh, jauma, this is certainly not was I was expecting," said veteren quilter Mrs. Brandt, 73. "Thousands of young men thrashing about in unwashed T-shirts and smelling worse than Uncle Henry after feeding the pigs."
When the mix-up was discovered, Mrs. Brandt immediately demanded their quick departure, but the others were not convinced.
"We drove all this way from Vankla," said Mrs. Friesen. "We might as well stick around for Kirk Hammett's solo on 'Ride the Lightning.'"
The other quilters agreed with Mrs. Friesen and soon found themselves in a sweaty mosh pit in the middle of the crowd.
"Oba, I've never seen Mrs. Wiebe crowd-surf like that before," said Mrs. Friesen. "At church she's a lot more reserved."
After the concert, the quilters' ears were ringing as they drove home to Winkler and vowed never to tell their husbands what they really did in the big city.
(photo credit: Alistair McMillan/CC)