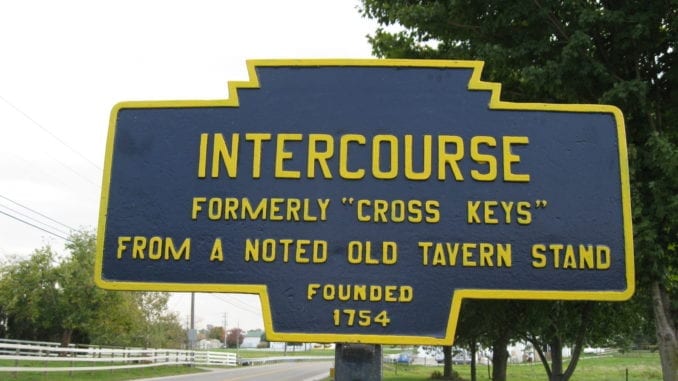 ABSTINENCE, PA
The tiny Mennonite village of Intercourse, Pennsylvania has had a wildly inappropriate name for quite some time now and area residents are finally ready for a change.
"People are coming here for all the wrong reasons," said Mrs. Graber. "You know there's more to this town than just stopping to take some silly photo with the sign for your Instagram feed!"
At the beginning of the month, the village will officially be renamed Abstinence, Pennsylvania, a move that is meant to send a very strong message.
"Abstinence, not intercourse, is the way to go!" said Mrs. Graber, who also offers free sex ed courses to willing community members. "As our great Anabaptist forebearers said, 'If you like it, then you shoulda put a ring on it."
The village of Abstinence, Pennsylvania is also hoping the change will mean a decline in people stealing the town sign.
"Our village is no laughing matter," said Mrs. Graber. "From now on, if you want a few laughs, you'll have to go to Climax or Jugtown!"
The nearby village of Bird-in-Hand is also considering changing its name to Bible-in-Hand.
(photo credit: Doug Kerr/CC)