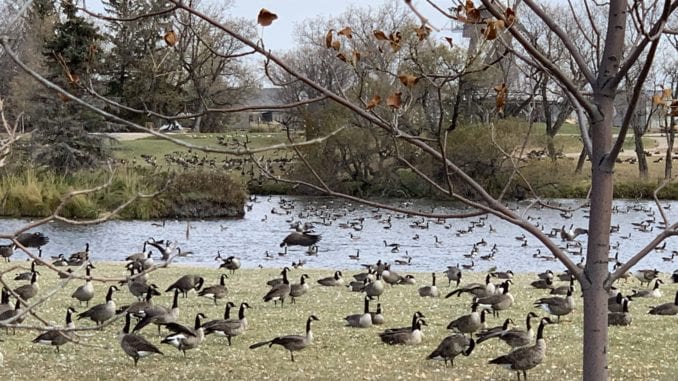 STEINBACH, MB
With the pandemic restricting the size of human church services in the Steinbach area, it seems the local Canada goose population has decided to flaunt their ability to congregate uninhibited.
"Not even the Free Church or Southland has a congregation this size these days!" proclaimed the lead goose, who asked us to call him Gordon. "I mean I'm sure they didn't even pack this many individuals into the Tabernacle by the flour mill during all those 1960s revival meetings!"
More than 7500 geese have been having church by the pond outside the Mennonite Heritage Village, which seems to have become an annual tradition.
"And we're just as particular about reserving our spot in church as you humans are," said Gordon the Goose. "Just try and approach us and see how it goes for you …"
It's not known why the geese feel the need to congregate for so long, though some have suggested they're trying to outdo the Steinbachers for the length of their services.
"Not only do we have the biggest church in town right now," said Gordon, "but our service has gone on for a week straight and shows no signs of slowing down! Beat that, Steinbach EMBCEEMMC!"
The geese are reportedly non-denominational, although when they all tried to sing "Praise God from Whom All Blessings Flow" together, it quickly became clear who were GCers and who belonged to one of the "other" Mennonite churches.