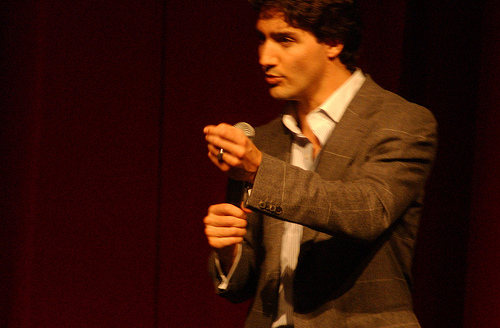 WASHINGTON, DC
Canadian Prime Minister Justin Trudeau met with American President Donald Trump this week to discuss, among others things, the biggest threat to their own absolute power: electoral reform.
"The electoral college system is just tremendous. Absolutely tremendous," said Trump. "Anytime you can win an election despite the fact that the majority of the people really don't want you in there, well, that's just fabulous."
Trump then went on to heap praise on the equally-flawed Canadian electoral process.
"They've got an even more messed up system up there in Canada," said Trump. "My good friend Trudeau got absolute power with less than 40% of the popular vote. Sounds great to me."
Trudeau noted that after promising electoral reform during the last campaign, he now changed his mind and saw eye-to-eye with the US leader.
"We may disagree on trade and refugees, but we're completely united in blocking any attempt to turn our two countries into properly functioning democracies," said Trudeau. "I stand committed to making Canada a country that truly reflects the will of the minority."
Trump and Trudeau then held hands for an awkwardly long time, peered into each other's eyes, and vowed to do all they could to stop the spread of "vile democratic ideas" across the continent.
(photo credit: by batmoo
)