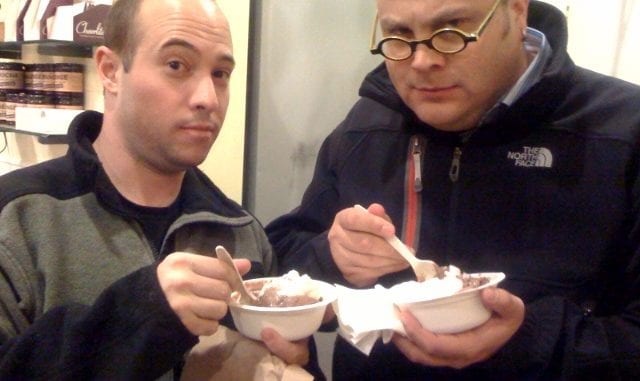 STEINBACH, MB
Things sure are changing in the growing city of Steinbach. After heated debate this week, Steinbach city council voted 4 to 3 in favour of legalizing sundae shopping.
"This is something that has come up for discussion quite a lot," said councillor Thiessen, devouring a delicious hot fudge treat. "They have sundae shopping in Winnipeg. They have sundae shopping in Portage. It was only a matter of time before we had sundae shopping in Steinbach, too."
The council was under increasing pressure from the local business community who felt they were losing out on potential sales as Steinbachers did their sundae shopping in the big city.
"It's true. We often go to BDI or something and get our sundae shopping done there," said Mrs. Toews, who supports the change. "It'll be nice to keep my sundae shopping money in the community."
Children across the region were especially excited about the new law and the chance to finally try sundae shopping for themselves.
"I can't wait to try it,"  said little Bethany. "I've heard sundae shopping is delicious!"
It seems the Steinbach city council agrees. Sundae shopping will commence in Steinbach next weekend, although locals are being warned not to spoil their appetites for faspa. Many were disappointed, however, to discover the new law restricts sundae sales to six days a week.
(photo credit: George Arriola/CC)