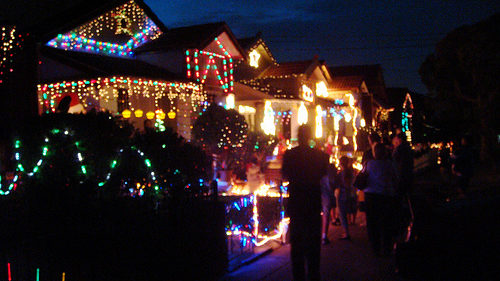 STEINBACH, MB
Area man Arthur P. Toews, 62, shocked all his neighbours this past weekend by finally removing his Christmas lights. Toews was spotted on his ladder by his neighbour Mr. Friesen from across the street.
"It's about time!" called Mr. Friesen to Mr. Toews. "Oba, nay, it's practically Easter!"
Mr. Friesen continued to harrangue Mr. Toews as he went up and down the ladder to unclip the brightly-coloured lights.
"You do realize it's March, don't you!" yelled Friesen from across the street. "I take mine down mid-January!"
After putting up with a good half-hour of harassment, Mr. Toews angrily shook his fist at Mr. Friesen and retreated to the house, leaving the job unfinished and half the lights still clinging to the eavestrough.
"If Mr. Friesen won't mind his own business and leave me alone," said Mr. Toews, "I'm going to leave those darn lights up there until August!"
Mr. Toews was so annoyed by Mr. Friesen that he decided to put his Christmas Tree back up and leave his curtains open for the whole neighbourhood to see.
(photo credit: by diongillard
)