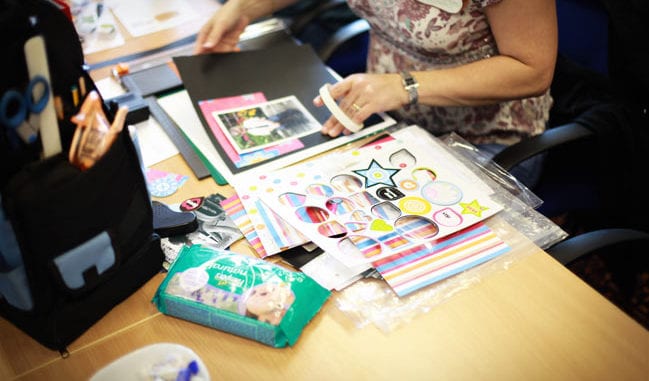 SASKATOON, SK
Mrs. Thiessen, 47, of Saskatoon has been meticulously scrapbooking her family's life ever since her marriage to Dave at the Mennonite church back in the summer of '99.
"Here's a page dedicated to our first date, and our Bible study, our first kiss, and our first…oh, well, I won't show you that page," said Mrs. Thiessen, her face in a blush. "I spend between ten and twelve hours a day on this book. It's really a series of books. I have over 800 of them by now."
Mrs. Thiessen's scrapbooking is not all fun and games, though. She's been sent to the emergency room on six separate occasions after burning herself with a glue gun.
"Not to mention the time I had to get my stomach pumped after inhaling a bit too much gold glitter," said Thiessen. "Scrapbooking can really do number on you, if you're not careful."
Thiessen has been scrapbooking non-stop for decades and even documented the moment her husband Dave had to run to the store to pick up a new paper edger.
"He was such a sweetheart. I have three whole pages dedicated to that incident alone," said Thiessen. "I even scrapbook my scrapbooking."
Despite all this, somehow the Thiessens have managed to raise three healthy children, though no one's quite sure how Dave managed to convince her to put down the calligraphy pens long enough to go for a quick meddachschlop.
(photo credit: Shimelle Laine/CC)