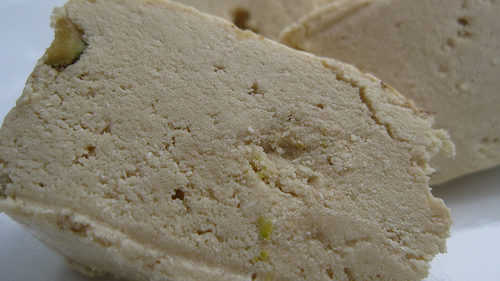 STEINBACH, MB
For some odd reason, the mysterious sandy substance known as halva has become a Mennonite delicacy every Christmas. Yet, like always, Grandma Loewen vastly over-estimated the grandkids' desire to eat the dry paste.
"Juama Lied! Just whatever am I going to do with all this halva yet!" pondered Grandma Loewen after the annual family gathering on Christmas Eve.
How the Mennonites ever came to acquire a taste for the Middle Eastern treat is somewhat of a mystery, but not nearly as mysterious as the rumoured composition of the wintertime snack.
"I think the grandkids are just scared off because Onkel Pete keeps telling them it's made from camel's milk," said Grandma Loewen. "I have no clue what's in this stuff, but I wish Pete would stop scaring them like that."
Grandma Loewen is considering donated the leftover halva to local teachers to use as chalk.
"It's a pretty versatile substance," said Grandma Loewen. "I just don't understand why the kids don't seem to like it as much as I do."
After the Loewen gathering, more than five gallons of plumi moos and ten pounds of fruitcake were also left over.
(photo credit: by Accidental Hedonist/CC)