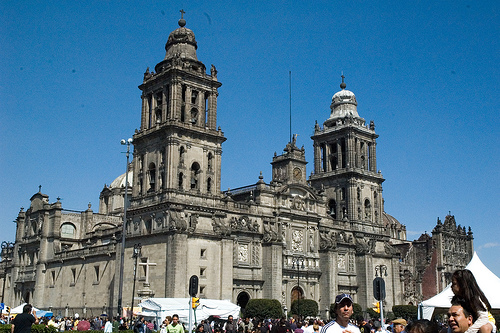 HEUBODEN, MB
Once playfully referred to as the 'Kleine Gemeinde' or 'small church', the EMC has grown to include 62 churches with over 7200 members. One such congregation in the tiny village of Heuboden has recently undergone a massive expansion to accomodate all the new members.
"80 million dollars and 200 tonnes of concrete later, we've now got the largest Kleine Gemeindechurch in the country," said pastor Darryl F. Unger. "Our Kleine Gemeinde is even more grossethan many of the regular Gemeindes."
The new church models itself after all the great cathedrals of Europe, which is a dramatic change from the more minimalist Mennonite style.
"Either go big or go home," says Unger, who stands a stately 5 foot 3 inches, himself. "Look out General Conference, here we come! We're not so Kleineanymore, now are we!"
In response the regular-size Gemeinde(or Mennonite Church as it's commonly known), has amped up their own infrastructure budget by over 30%.
"They can expand all they want," said regular-Gemeinde pastor Hank Fehr. "But to us they will always be Kleine…and we've got a $50 million gymnasium expansion to prove it."
(photo credit: by Paul and Jill/CC)