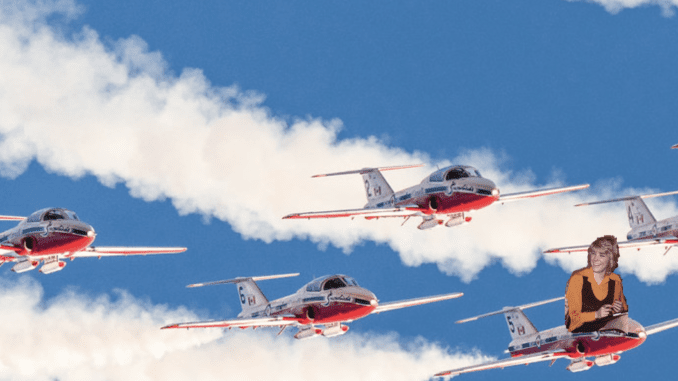 BRANDON, MB
At a time when many Canadians needed a pick me up, musical icon Anne Murray took off from her base at 15 Wing Moose Jaw and flew over western Canada belting out her 1970 hit "Snowbird."
"Look, kids, look up there, it's Anne Murray!" said an excited Mrs. Quiring of Brandon. "Oh, look, she's doing the Silver Dart formation throughout all of verse two!"
Anne Murray's flight of inspiration took her from Moose Jaw, past Regina, over Virden and Brandon, before doing a Big Diamond over the Manitoba capital while soothing anxious Winnipegers with the most beautiful "beneath the snowy mantle cold and clean" they had ever heard.
"Spread your tiny wings and fly away!" shouted Mrs. Quiring, straining her neck to see Anne Murray perform a Big Vic. "You go, girl!"
The response to the Anne Murray fly over was so positive that enthusiastic residents shouted for an encore and Anne Murray did not disappoint, looping over Thompson and Flin Flon while singing "You Needed Me."
"And this one's for you," shouted Anne Murray over The Pas. "And even though we ain't got money, I'm still in love with you honey!"
Anne Murray will be flying over small town Canada all this summer singing "Snowbird" from a comfortable 31,000 feet, which is just 30,994 more than necessary.
(photo credit: Oregon National Guard  and guyman22/CC)