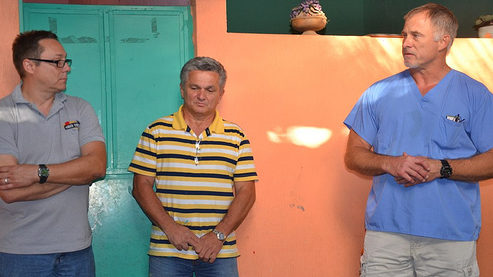 STEINBACH, MB
Abe Friesen the mechanic (no, not Abe Friesen the Associate Pastor at the Main Street Brethren, or Abe Friesen the truck driver from Lowe Farm) is sick and tired of being confused for one of the dozens of other Abe Friesens in town and so has proposed that all Abe Friesens should be required to carry identification and wear a shoulder mark indicating their middle initial.
"I'm Abe R. Friesen and everyone should know that yet," said Abe R. Friesen. "My name was pulled at the silent auction the other day and when they said 'Abe Friesen' had won, seven people stood up to claim the prize. Oba, that was fedreie yet."
Abe F. Friesen, however, was opposed to the idea.
"So jast because some Daumelskopp can't tell us apart once, then I've got to wear an F on my shoulder?" said a noticeably annoyed Abe F. Friesen. "Na, I know my Abe Friesens. There's the one who lives on the corner of Henry and Reimer, and then there's 'Feed Lot' Abe Friesen and 'Chicken Catcher' Abe Friesen. And don't forget about 'Fuela' Friesen. He's an Abe, too."
Abe B. Friesen and Abe S. Friesen were a little more receptive to the proposal, but hoped that Abe L. Friesen and Abe. V. Friesen would get on board, too.
"Abe X. Friesen and Abe Q. Friesen are not in favour of this idea at all," said Abe A. Friesen, "but, frankly, as long as Abe. D. Friesen is supportive I think the bill will pass. He's a powerful guy. Not as influential as Abe G. Friesen, but who is? Only Abe K. Friesen and his son Abe K.P. Friesen."
There is also a growing movement to have all Mary Reimers do the same.
(photo credit: by amslerPIX/CC)