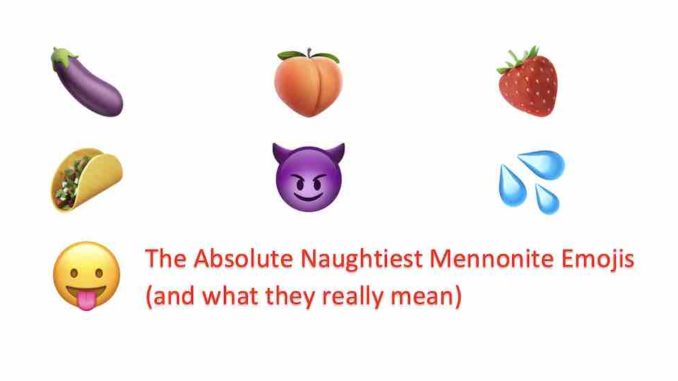 These days you have to be careful when you're using emojis. You don't want to unintentionally seduce the pastor's son. In order to aid clear and concise communication, the Daily Bonnet has created this handy guide to the most commonly used emojis to explain what they mean within the Mennonite context. Better safe than sorry.
😛  – The face with a tongue sticking out may look innocent enough, but it's actually very suggestive. Be sure only to use it when you're trying to say, "Hey, Martha, my tongue is absolutely raw from all that knackzoat. I really could use a glass of water."
🍑 – Mennonites are not known for growing peaches. We've never lived in temperate enough climates for that. So you can't interpret this one too literally. Instead, think euphemistically. Got it? I thought you would. You always send this one to your oma or Sunday School teacher to say, "you're as sweet as a peach."
😈 – Ahh, yes, the devil horns. This one is pretty obvious, I guess. It always refers exclusively to members of the church elder board (and sometimes even to a few of the deacons). 
🍓- The strawberry emoji is especially popular in the Fraser Valley. You can also use it on the Canadian prairies to tell your friends they better act fast because the frintschoft from BC is out on the highway selling fresh produce and you don't want to be stuck with the old rotten strawberries no one else wanted.
🌮 – This one originated with Mennonites in Chihuahua, but from there it's spread across the Mennonite world. No, it doesn't mean I'm hungry for tacos. Instead, only use it when referring to a very intimate part of your loved one's hymnal. This one essentially has the same meaning as "what's your favourite verse in the Book of Matthew?" Use it with reckless abandon.
💦 – These innocent looking little droplets have a few different meanings, so be careful with this one. You can send this one to your spouse saying, "Oba, I've been working so hard today, I've really worked up a sweat," or it can also be used to say, "I'm all out of yerba mate." Be careful so you don't send mixed messages.
🍆 – This one is especially popular in mid-summer when the eggplants are ripe. Send this one to all your friends to let them know, "Hey, everyone, the eggplants are ready for picking. Come and get them!"  This also works when you have too much rhubarb. Trust me, they'll come running.