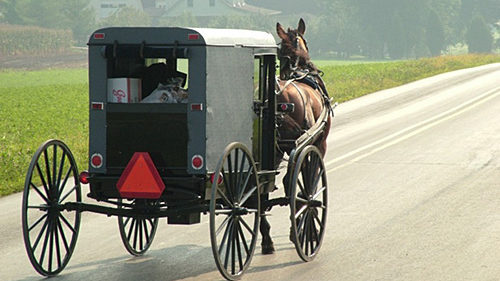 LANCASTER, PA
After receiving fierce resistance from licensed taxi companies in large cities around the world, online transportation network Uber received a huge boost this week as the Pennsylvania Dutch welcomed Uber to the region.
"We're really looking forward to serving the Amish community," explained an Uber spokesperson. "With our system, the Amish will be able to call a buggy to pick them up anyplace at anytime."
Initially, the well-established black cab buggies were resistant to the idea of having to compete for customers with the new technology, but the Amish community rallied behind Uber citing convenience and price.
"Let's say I'm out at the Kutztown quilt auction and there are no buggies to be found," said Swartzentruber leader Jakob Weaver. "Well, now, I can just Uber one and get back to Bird-in-Hand, no problem."
Uber has adapted their technology to meet the needs of the Amish. Instead of a smartphone app, users now have the option of calling an Uber by regular mail. Uber guarantees that pen-and-paper requests will be responded to within 72 hours.
(Photo credit: by Sangre-La.com/ CC)