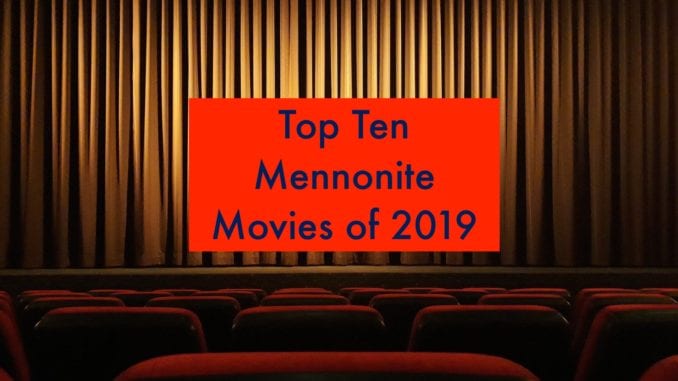 2019 was quite the year for Mennonite film, smashing box office records and garnering praise from both fans and critics alike. Without further ado, here are the top ten Mennonite films of 2019.
10. How to Train Your Driedger – A young boy goes on an adventure after befriending a flying Driedger with magical powers.
9. Rocketmenno – This music biopic tells the tale of Plautdietsch-speaking young man who sports sequined suspenders and transforms himself into one of the most popular autoharp players of the 1970s.
8. A Beautiful Day in North Kildonan – Another biopic. This one is about a beloved Mennonite children's entertainer. Fred Penner obviously.
7. Downtown Abby – The popular TV show about uppity Mennonites was brought to the big screen, this time in beautiful downtown Abbotsford, British Columbia.
6. Toy Story 606 – Woody and Buzz make sure all the Mennonite children have done their chores, read their Bibles, and are in bed by seven because they have to get up early to milk the cows in the morning.
5. Ford v. Horse and Buggy – Set in the 1960s, this films tells the true story of Ford Motor Company's feeble attempt to win a race against a horse and buggy.
4. The Loewen King – A remake of the 1990s Disney cartoon, the Loewen King documents the life of a young Loewen who has to defeat his evil Oncle Kjnels to gain all the land west of Winkler that is rightfully his according to the Privilegium of 1873.
3. Kehlers: Endgame – The Kehlers of the Pembina Valley gather at Lake Minnewasta to save the world through hymn singing and knipsbrat.
2. Once Upon a Time in Chortitza – This Tarantino masterpiece takes us back to late 1860s Chortitza, a time where the dandelion wine was flowing and circle games were fast and loose. Not suitable for younger audiences.
1. Schputter – Based on a little-known character from DC comics, The Schputter is an evil Mennonite satirist who lurks around Schteinback coffee shops just looking for someone or something to mock.