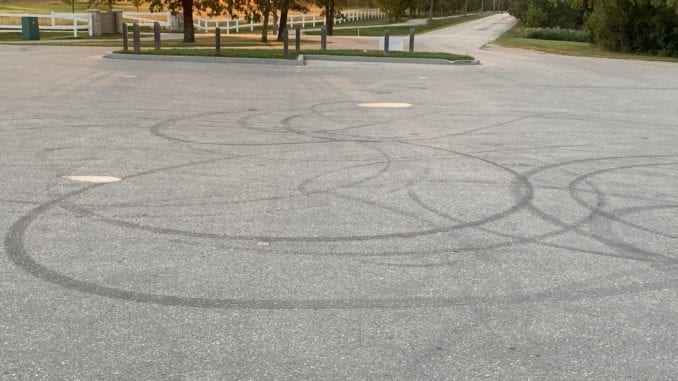 TABER, AB
Pastor Dave pulled up onto the lot this morning for his marriage counselling sessions with the Thiessens only to find that the entire lot was covered with mysterious black circles and the whole area smelled a bit like burning rubber.
"I'm not one to believe in the extraterrestrials, although I did show E.T. to the youth group once. Oba, I was nearly fired over that one …" said Pastor Dave. "It's really strange, though. I've never seen markings like this in my life!"
Dave immediately cancelled his counselling session with the Thiessens, saying that they'd only be traumatized even further to see what had happened to the church parking lot.
"I'm not sure what's going on. This isn't our first experience with paranormal activity around here," said Pastor Dave. "Just this summer the Klassens welcomed their first born child into the world. The thing is – and listen to this – I only performed the wedding just six months ago!  Strange things are afoot, let me tell you!"
The bizzarre circles are currently being carefully examined by the elders, although Elder Redekop doesn't want to get too close for fear of radiation.
"I can make my assessment from a distance," said Elder Redekop. "I must say, the evidence of extra-worldly interference here is pretty overwhelming. Either that or it's just one of the Krahn boys from Bow Island."