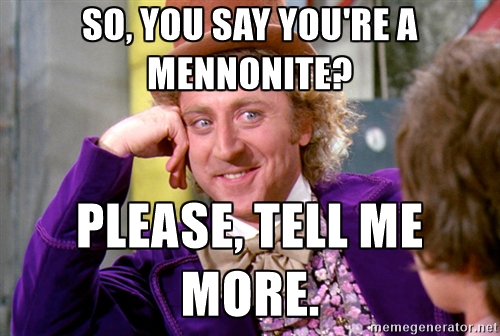 HOFFENBURG, PA
A fringe Mennonite group promoting a "traditional pro-judgement pro-gossip" agenda has been gaining traction in the last few weeks due, in part, to an editorial in BreitBart and a series of memes with spelling mistakes in them.
"The most effective meme we've got is one with Willy Wonka saying 'Oh, realy, tell me more about why I shouldn't judg,'" said the group's leader from his Hoffenburg basement suite. "We're so sick of all this politically correct BS. Where in the Bible does it say we're not supposed to judge others? That's right! Nowhere!"
The Alt-Mennonite group claims to represent the true conservative branch of the Mennonite church.
"We're just going back to the days before all these commie-liberals took over the church and told us we should follow the teachings of Jesus," explained the leader. "I'm not ashamed to say that I'm pro-shunning, pro-gossip, and pro-women-on-one-side-of-the-church-and-men-on-the-other. We're going to make America Mennonite again…except without the peace, community, and consideration of the needs of others."
The growing popularity of the group has worried some people. However, critics of the Alt-Mennonite movement say they will do everything in their power to stop the spread of these vile ideas.
"We don't want the Alt-Mennonite movement to spread, so we're going to invite the leader to speak in our church next week and join our elder board," said one Hoffenburg pastor. "We're also considering giving him a weekly column in the church bulletin. This best thing to do with extremists like this is to give them as large a platform as possible."