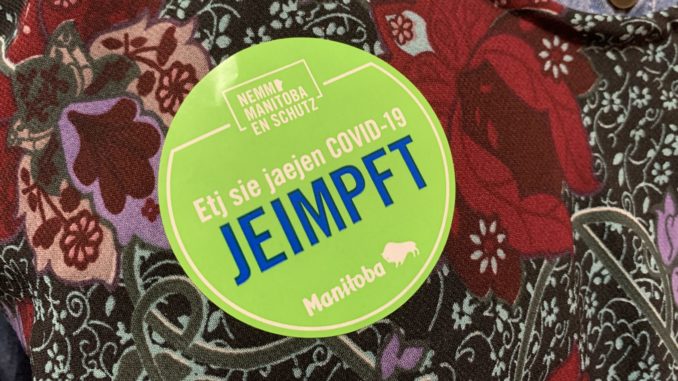 WINKLER, MB
The one thing that was holding Mr. Hoeppner back from getting his Covid-19 vaccine was the fact he had to wear one of those weltlijch English stickers afterwards.
"Then I saw the Plautdietsch one and I thought, 'here's my chance!'" said Mr. Hoeppner. "Etj sie jaejaen Covid-19 jeimpft! Oba jo!"
Mr. Hoeppner and his buddies were seen proudly (or humbly) displaying their new stickers at the local coffee shop.
"When they offered me an Englisher one I said, 'no, thanks, I'll pass,'" said Mr. Hoeppner. "But this new sticker? Well, I'd have taken one for each arm if I'd been offered them!"
******************
While this article is satire, the stickers themselves are real! Ask for yours today at your southern Manitoba vaccine supersite!